First Class Experience
Our charter services offer a luxury, first class experience, and our aircraft management services are no different. We are experts in aviation asset management, providing our clients with peace of mind that comes with knowing every last detail is accounted for. We offer 24/7 essential insight through reliable support and personal partnership our clients won't get from other private jet aircraft management companies.
What is Aircraft Management?
As an aircraft management company, we offer our clients unique services that make it easier to purchase, operate, and maintain private jets. We manage aircraft for private owners and corporations, under 14 CFR part 91 or 135, based on the client's needs and expectations. Our strength is in our comprehensive abilities, with dedicated support designed to get you where you need to go with less stress, more savings, and an innovative approach to managing aircraft and crew. We walk alongside our aircraft management customers from start to finish ensuring that no detail is overlooked.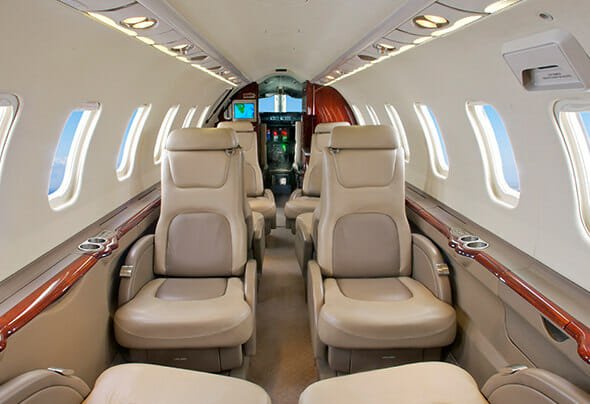 Specific services include:
Aircraft cost analysis and type selection
Locating, purchase negotiations, and closings
Exterior paint and interior cabin completions
Certification of the aircraft with the FAA and DOT
Registration process, U.S. or other countries
Maintenance programs, including inspections and routine maintenance
Locating, hiring, and management of flight and cabin crews
Training of flight and cabin crews
Cost control, budgeting, and accounting services
Oversight of daily organization and dispatch for worldwide flight operations
Report-driven Owner's Portal for fast access to need-to-know information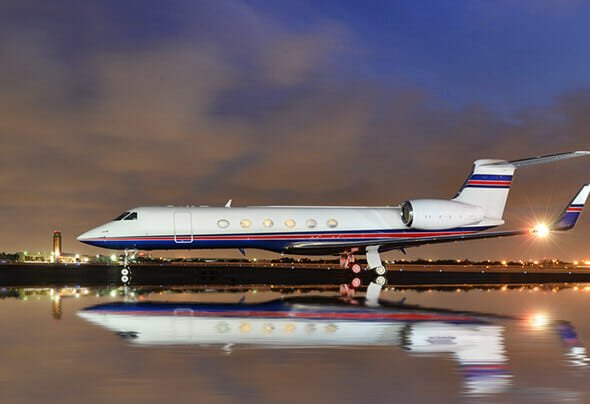 Worldwide Flight Operations
You have made one of the most important purchases in your life. Acquiring an asset that demands proper maintenance and management in order to preserve its value can be a daunting task requiring a team of professionals to maximize that value. The difference between great aircraft management and less than great aircraft management is typically the difference between happy aircraft owners and frustrated ones. National Jets' ownership of aircraft since 1947 has ingrained an ownership mentality that benefits our managed clients in every aspect of the operation. Operational expenses such as unscheduled maintenance, crew costs, and nonoperational aircraft expenses are scrutinized to ensure our owners are getting the most out of their investment. Our FBO allows us to provide increased efficiencies when basing an aircraft such as discounted fuel, parking, and onsite maintenance services. Parts procurement and inventories are handled 24/7 by our onsite 145 and Parts department. These synergies work together to provide the best launch reliability in the industry. Our management clients enjoy charter aircraft with the best opportunity to produce revenue with their aircraft and our Charter department ensures those revenue opportunities remain consistently available.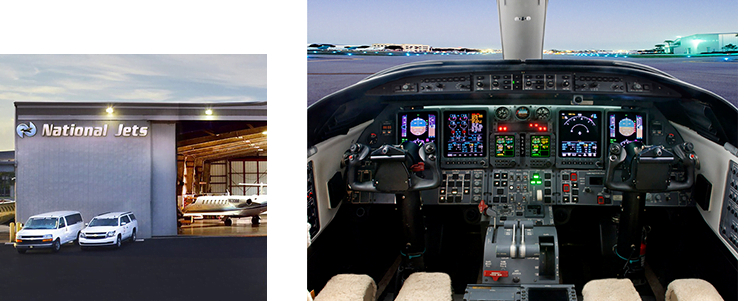 "We'll walk alongside of you throughout the purchasing process to ensure you get the best price"
Testimonials
"The level of customer service from National Jets was impeccable! Best in the country! The lady that assisted us could not been more helpful. She guided us through customs, helped with the bags, and assured our passengers were taken care of."
— Dan Burnstein on National Jets (KFLL))
"Amazing service! From the first lineman that greeted us, to the CSRs at the desk, this place goes way above and beyond the norm and they seem to delight in doing it. To top it off, their contract fuel prices were the lowest we've paid in years."
— Steve Nott on National Jets (KFLL)
"We were so impressed with the friendliness, helpful attitude and warmth of the staff at National Jets. They went the extra mile! Thank you and your staff for being there for us."
— Michael and Marlene Perlmutter on National Jets (KFLL)
"National Jets' service is quite possibly the best I have ever received. As a longtime corporate jet pilot, that is saying something. National Jets is completely proactive. Makes me wonder why all FBOs don't operate as well as National Jets."
— Jonathan Hanold on National Jets (KFLL)
"An excellent facility and top-notch service. Our rental car was driven out to the plane and we were on our way in no time. We will be back!"
— Greg Burnett on National Jets (KFLL)
"This is one of the friendliest and accommodating FBOs I've visited. It's worth going out of your way to visit this FBO. I can't say enough good about National Jets."
— Alan Sanderson on National Jets (KFLL)
"Although our Cessna 205 was by far the smallest plane on the ramp, the line and desk people at National Jets treated us like VIPs! They went out of their way to make sure we had everything we needed. Thanks National Jets!"
— Cindy Limbach
"Friendly staff and great service. This is why I fly."
— Keith Parker on National Jets (KFLL)
"Best service I have ever experienced at an FBO. Great contract fuel prices too. Over the last two days, National Jets has earned my business when we travel to FLL."
— Max Fulmer on National Jets (KFLL)
"Annie, Katie, Bailey, Oshane, and Andrew are sharp, friendly, and awesome! They are meticulous and pay attention to the smallest detail."
— Tom Glasgow on National Jets (KFLL)
"Wonderful facility with prompt friendly service."
— Matt Harris on National Jets (KFLL)
"Best service we have had. [National Jets] went out of their way taking care of us, booking hotel rides to and from. We were the smallest aircraft on the ramp (Tecnam Sierra). We will be back!"
— Joseph Geason on National Jets (KFLL)
"All FBO staff was amazing! So helpful and nice! Aneika went out of her way to help me get magazines and other things I needed for my flight. Outstanding service! Thank you!"
— Lori Wells on National Jets (KFLL)
"Everyone is super! Brandon does a very good job for us!"
— Jeff Sullivan on National Jets (KFLL)
"Bailey and Aiden were the best line-service I ever had! They were on top of everything, showing up to help unprompted!"
— Dustin Degraaff on National Jets (KFLL)